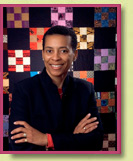 Colourful Stitches is committed to providing you with the finest artistic expression at an affordable price. We are inspired to redefine color by creating unique products: elegant books, quilt patterns and tools, dynamic workshops and lectures that will compliment your lifestyle and empower your dreams.
Come on in and let us colour your world!
Dear Quilting Friend
Polygon Tool and Polygon2 Tool are now in stock. They are perfect Polymates that play well together. Just look for the Polygon Series logo for the slew of patterns that use the tools. So many ways, please join me for The Polygon Affair…so easy you'll fall in love.
Click here to check out our new Tools Section!
Gyleen Fitzgerald
Watch Gyleen on the Balancing Act!